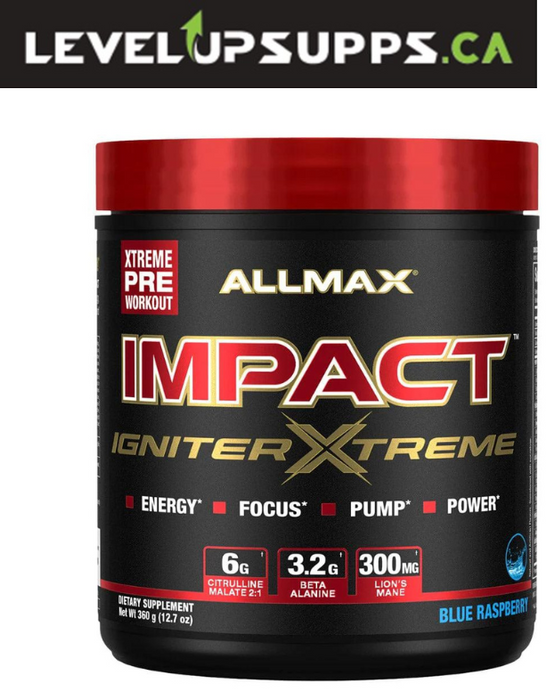 Allmax Impact 20 Servings
The new ultra-premium standard by which all other pre-workouts will be judged. IMPACT Igniter is a fully dosed and highly effective Pre-Workout thatll give you exactly what you want – results! Even better, these are results that improve the more you use it! Loaded with research directed dosages that work synergistically to produce superior results.
A PREMIUM PRODUCT BUILT ON SCIENCE, PERFECTED THROUGH EXTENSIVE RESEARCH AND PROVEN BY ATHLETES.
With ongoing use in high-intensity training, IMPACT Igniter delivers:
The kind of extreme motivation you need to train with INTENSITY
Increases in strength, reps and recovery
Muscle swelling pump activation you can FEEL
Amplified metabolism to incinerate fat while you train
IMPACT Igniter drives extreme motivation through a powerful blend of intense stimulants and advanced focus through cognitive enhancement agents. The intense motivation gets you into the gym and the extreme focus keeps you there.
SO HOW DOES IMPACT GIVE YOU BETTER WORKOUTS AND BETTER RESULTS?
The IMPACT Igniter formula contains ingredients that have been included in dozens of studies from around the world and have shown impressive results. But these results just scratch the surface of what youll experience when you try the high dosages of these ingredients in IMPACT.
This formula was built out of the absolute best ingredients at the inclusion levels that we knew would produce the best workouts and the best results based on quality research. But we were not satisfied with just what would work on paper. We wanted a formula that when it all came together would produce the best workout, every time.

INCREASED WORKOUT PERFORMANCE DELIVERS RESULTS
Why do you take a pre-workout formula in the first place? If youre doing it right, its part of a ritual that primes you mentally and physically to perform at the highest level. To achieve superior results, you need to push yourself past your known limits. IMPACT has been designed and tested to deliver just this.

TAKE YOUR WORKOUT & YOUR RESULTS TO THE NEXT LEVEL!
Studies on Citrulline Malate, N-Acetyl-L-Cysteine, L-Carnitine L-Tartrate and Beta Alanine have independently shown an impressive array of key attributes that lead to performance increases within a four to six week period. Using these ingredients in IMPACT Igniter at the levels we have make us very confident that the rule of "extreme workouts and superior results" are based in fact.
After over a year and nearly daily testing in the field with over 35 formulation revisions, we can tell you (very confidently) that these clinical lab setting research results are absolutely true. Dedicate yourself to the kind of intense training that challenges you and use these ingredients (whether you buy them separately, or use them in IMPACT) regularly and youll get results.
A full 20% increase in the rate of phosphocreatine recovery after exercise (a strong marker of recovery) has been shown by clinical research with the ingredients in IMPACT at the levels included. Even more impressive, there was a decreased level of reported soreness by as much as 40% after resistance training.
Top bodybuilders like Arnold Schwarzenegger have claimed that the only reps that matter are the ones past the point of pain. Scientific research has since pointed to this being absolutely true. Muscle adaptation takes place in response to pushing your muscles to and past failure.

…