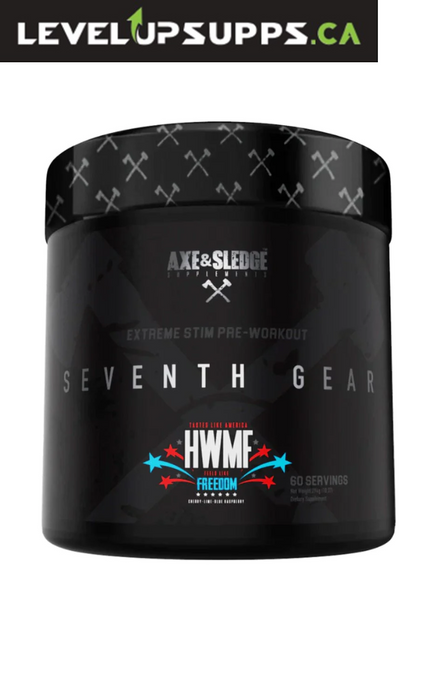 Axe and Sledge Seventh Gear
A LOT OF PRE-WORKOUTS PROMISE TO PROVIDE YOU WITH HIGH ENERGY, INTENSE FOCUS, AND UNMATCHED PERFORMANCE, BUT VERY FEW LIVE UP TO THEIR CLAIMS. EVER SINCE WE LAUNCHED HYDRAULIC AND IGNITION SWITCH, SOME OF YOU HARD-WORKING M'FERS STILL WANTED MORE. SINCE IT'S EXTREMELY RARE TO COME BY A HIGH-STIMULANT PRE-WORKOUT THAT'S ACTUALLY EFFECTIVE, WE DECIDED TO TAKE IT UPON OURSELVES TO CREATE ONE.
ENTER SEVENTH GEAR...
INSTEAD OF JUST FILLING THE PRODUCT WITH A HIGH DOSE OF CAFFEINE, WE STAYED TRUE TO OUR WAY OF CREATING EFFICACIOUS SUPPLEMENTS BY INCLUDING SEVERAL OTHER INGREDIENTS THAT BOOST ENDURANCE, POWER, FOCUS, AND PUMPS. SEVENTH GEAR IS FAR FROM THE TYPICAL HIGH-STIM PRE-WORKOUT. SEVENTH GEAR IS A COMPREHENSIVE PRE-WORKOUT THAT WILL HELP YOU PUSH THE LIMITS AND OVERCOME ANY PERFORMANCE PLATEAUS.
KICK YOUR WORKOUTS INTO SEVENTH GEAR
SEVENTH GEAR IS A HIGH-STIMULANT PRE-WORKOUT THAT CONTAINS JUST UNDER 400 MILLIGRAMS OF CAFFEINE IN 2 SCOOPS COMING FROM FASTING-ACTING CAFFEINE ANHYDROUS AND EXTENDED-RELEASE DICAFFEINE MALATE(AS INFINERGY™). SEVENTH GEAR ALSO CONTAINS 100 MILLIGRAMS OF TEACRINE® TO FURTHER ELEVATE MOOD, MOTIVATION, ENERGY, AND FOCUS. WHILE OTHER HIGH-STIM PRE-WORKOUTS WILL LEAVE YOU FEELING DRAINED AFTER THE WORKOUT IS OVER, SEVENTH GEAR WILL KEEP YOU GOING LONG AFTER YOU FINISH YOUR LAST SET!

HERE'S WHAT YOU CAN EXPECT FROM SEVENTH GEAR:
HIGH ENERGY WITHOUT THE CRASH

LASER FOCUS

INCREASED POWER, STRENGTH, AND ENDURANCE

INCREASED MIND-MUSCLE CONNECTION
SEVENTH GEAR FEATURES A FULLY DISCLOSED LABEL SO YOU KNOW EXACTLY HOW MUCH OF EACH INGREDIENT IS IN ONE SCOOP. USERS CAN CHOOSE HOW MUCH CAFFEINE THEY WANT TO CONSUME BY ADJUSTING THE SERVING SIZE. IN JUST 1 SCOOP YOU ARE GETTING JUST UNDER 200 MILLIGRAMS OF TOTAL CAFFEINE. BUT IF YOU REALLY WANT THE FULL EXPERINCE, TAKE TWO SCOOPS AND YOU STILL HAVE 30 SERVINGS IN A TUB!

IN ADDITION TO THE STIMS, SEVENTH GEAR ALSO HAS SEVERAL INGREDIENTS THAT INCREASE POWER, STRENGTH, PERFORMANCE, AND FOCUS, INCLUDING:
BETAINE

BETA-AALANINE

CREATINE MAGNAPOWER®

ALPHA-GPC

CHOLINE BITARTRATE

HUPERZINE A
LASTLY, WE ADDED BLACK PEPPER EXTRACT (AS BIOPERINE®) TO FURTHER INCREASE THE ABSORPTION AND EFFECTIVENESS OF ALL THE INGREDIENTS. SEVENTH GEAR IS THE PRE-WORKOUT FOR THE STIM JUNKIES THAT WANT MORE FROM EACH AND EVERY SCOOP. WITH SEVERAL AMAZING FLAVORS, SUCH AS DEADLIFTS & GUMMY BEARS, YOUR MOM'S LEMONADE, AND PINEAPPLE EXPRESS, SEVENTH GEAR WILL LEAVE YOU COMING BACK FOR MORE!