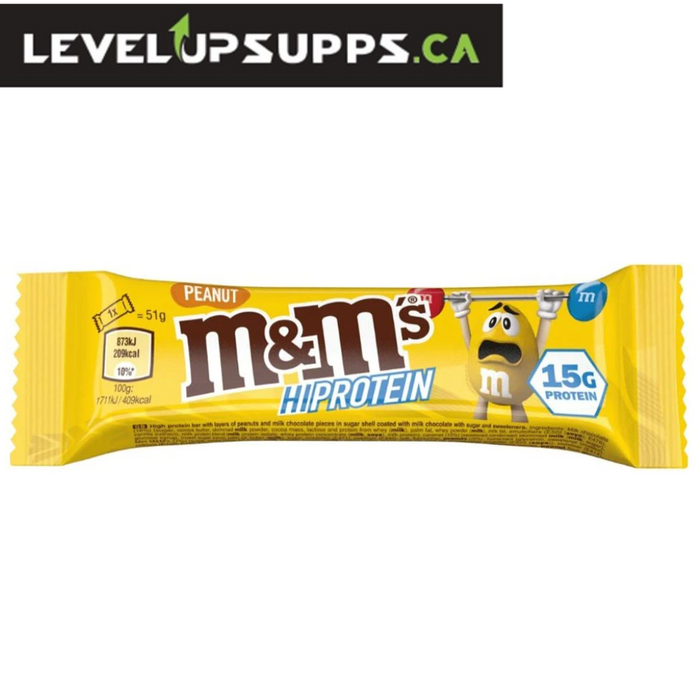 Mars M&M's Hi-Protein Chocolate Bar (51g)
Are you really serious about your snacks and your gym 'gainz'? Then check THIS out! From the makers of crunchy M&M's candy themselves, the moment we have certainly been waiting for... a high protein bar packed with mini Chocolate M&M's, milk chocolate chunks and nougat!! Yes, Mars' Hi-Protein M&M's Chocolate protein bars are here!
Building on the success all the other protein-fortified snacks from Mars, this game changing arrival has 'raised the bar' in tasty protein snacks...M&M's, Mars Chocolate + Protein, is there anything that sounds more appealing and irresistible?! NO! These cheeky little bars have got us seriously hot under the collar!
Packed with protein and lower in sugar, but with no sacrifice when it comes to the gorgeous, timeless, unbeatable combo of signature Mars caramel, milk chocolate, and with a bunch of mini chocolate crunchy-shell M&M's in too?!
Y E S!! <3
A truly sensational post-workout snack (and reward!!) if you're not a peanut butter lover, no worries! Mars have also created a full on chocolate version! Perfect sweet-tooth, cravings curbing goodness! We know you'll put that extra protein to good use!!

Why the M&M's Hi-Protein Chocolate Bar?
Laced with

 

ACTUAL mini choccy M&M's

 

(made by Mars themselves!!)
A whopping

 

15g protein
10g less sugar

 

than a serving of (non-protein) M&M's.
3x more protein than a serving of regular M&M's candies