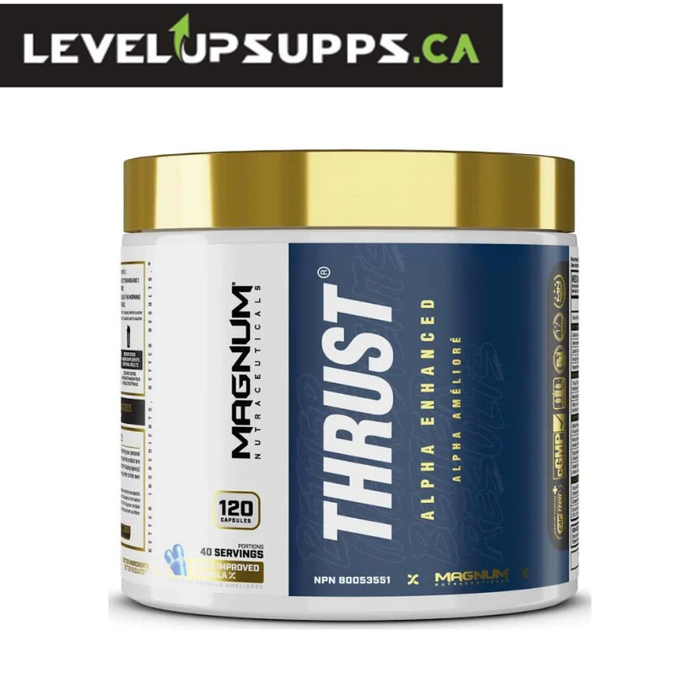 THRUST® - CANADA'S #1 TEST BOOSTER
Thrust® supports and will drastically improve natural testosterone production, even if it's been suppressed by aging, the use of pro-hormones, steroids, or stress. In addition, Thrust® includes a very potent anti-aromatase technology that is specifically designed to decrease estrogen and DHT levels. It also boasts a key ingredient that's rarely used in the sports supplement industry (due to its extremely high cost) but has been proven to increase the rate of protein synthesis for faster muscle gains. The Thrust® formula is so complete that its positive effects can often be felt within the first 5 days of use. These effects include increased strength, libido, recovery, energy as well as incredibly deep sleep and vivid dreams. Thrust® has been proven in the gym and in the lab for over 13 years because of the inclusion of only the most effective, 100% Pharmaceutical Grade ingredients.
DEEPER SLEEP, FASTER MUSCLE GROWTH, & ENHANCED RECOVERY!
FIVE KEY FUNCTIONS
INCREASE LEUTINIZING HORMONE (LH)
You can directly influence levels of testosterone in the body by stimulating the anterior pituitary to increase luteinizing hormone through the use of Puncture Vine, (45% Saponins). Organic Maca has also been shown in a recent study to increase the surge of luteinizing hormone (LH) from the pituitary gland. More LH equals more testosterone!
MAXIMIZE FREE TESTOSTERONE
You increase the levels of bound testosterone when you're battling the aging process, stressed, or have manipulated your hormonal profile through synthetic methods. This means testosterone is unable to be utilized in the body as it's bound to a protein called Sex Hormone Binding Globulin (SHBG). Magnum Thrust® incudes several ingredients to shut down or reduce the levels of SHBG. M-OXO, a key ingredient in Thrust®, has been shown to effectively raise cAMP (a cell signaling molecule) involved in hormonal production and ultimately increasing free testosterone. Oatstraw Extract, Tongkat Ali Root Extract, and Stinging Nettle Leaf Extract also bind to SHBG, effectively raising Free Testosterone FAST!
CREATE & ACTIVATE MORE TESTOSTERONE RECEPTOR SITES
Carnitine has demonstrated improvements in blood flow and oxygen transport. This leads to recovery as well as significant increases in the androgen-receptor content on muscle tissue. More active androgen receptor sites mean more testosterone enters the DNA where it can do its job. And speaking of doing its job, carnitine supplementation has been shown to increase the level of testosterone utilization and sperm quality.      
REDUCES ESTROGEN AND DHT
Decreasing estrogen is one of the most effective way to increase testosterone in men of all ages. Stinging Nettle Leaf Extract, Hesperidin, and Naringenin all have anti-estrogenic activity and anti-DHT properties. By reducing estrogen and DHT, they promote strength, recovery, libido, and prostate health. 
INCREASE PROTEIN SYNTHESIS
Beta Ecdysterone is a naturally-occurring sterol that's been shown to decrease urea concentration and increase hemoglobin levels. This leads to stimulation of anabolic processes including faster protein synthesis, leading to a positive nitrogen balance and more muscular gains. Beta Ecdysterone also stimulates the estrogen beta receptor; strengthening the anabolic effect of testosterone in muscle cells and producing more IGF-1 - the most anabolic hormone in the human body.   

The ultimate "5-FUNCTION" NATURAL "MANOPAUSE" SOLUTION!
 PART OF: T-THERAPY STACK 
NATURAL TESTOSTERONE BOOSTER - Magnum Thrust is the best choice for a testosterone booster that supports healthy estrogen balance. Its the only testosterone booster to include 4 testosterone mimickers that increase protein synthesis.

MULTI-PATHWAY APPROACH - Magnum Thrust optimizes your ability to produce and utilize testosterone through 5 highly effective mechanisms - Thrust's multi-pathway approach optimizes your ability to produce and utilize and produce and utilize testosterone.

100% ALL NATURAL - Magnum Thrust will not shut down your bodies natural testosterone production. It will only help optimize it. It has been tested in the gym and in the lab over the last 7 years.

STRONGER & HARDER MUSCLES - Increasing your natural testosterone levels allows your body to develop muscle fibers fast as well as take fewer days for fibers to recovery. Minimizing the muscle recovery days allows the for harder, leaner muscles while developing strength.

RESTFUL SLEEPS - Researchers have gone on to claim that low levels of testosterone alter the way the brain "syncs." The perfect synchronization is required in the brain to attain deep sleep. Thus, inadequate testosterone levels aid against syncing, and therefore, may aid men from reaching the deep sleep cycle.