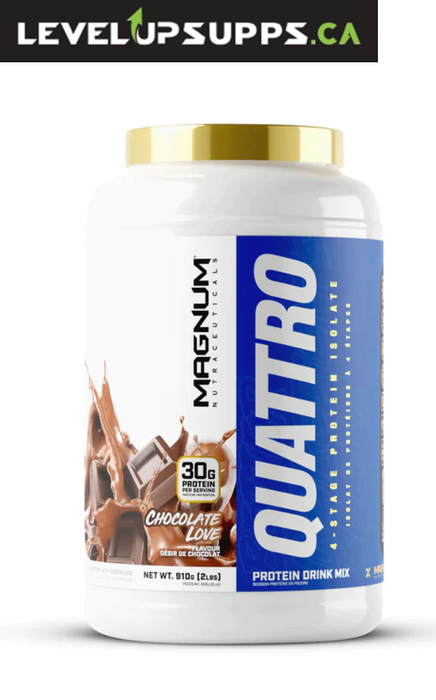 Magnum Quattro Premium Protein Isolate 2lbs
QUATTRO

Magnum Quattro™ - the perfect ISOLATED protein FORMULA!
Using only the most effective Pharmaceutical Grade Protein Isolates, Magnum Quattro™ delivers a quick flood of protein to your bloodstream, as well as a medium-and slow-flow to create a nitrogen balance that lasts all day, thus facilitating the perfect environment for lean muscle creation. With the addition of Organic Flaxseed, Magnum Quattro™ further contributes to an optimal metabolic rate, stored fat utilization, and muscle recuperation and growth. Magnum Quattro™ is also Kosher certified, gluten free, lactose and nut free - guaranteeing zero gas or bloating. Whether shaking, blending, or baking, Magnum Quattro™ is the fuel you need to attain the results you desire.

LACTOSE FREE - GLUTEN FREE – NUT FREE – NO GAS OR BLOATING – KOSHER CERTIFIED

IMMEDIATE GROWTH
Quattro's' #1 ingredient is Whey Protein Isolate (90%+ isolation) that absorbs faster, has fewer impurities and minimal carbohydrates and fats. Most companies use a less expensive form of whey called whey concentrate, which has a higher percentage of lactose and dairy fats. This typically causes gas and bloating depending on the grade of protein used. High quality whey protein isolates help muscles recover and grow faster by increasing the body's protein levels within one hour.
DELAYED RELEASE
Egg Protein Isolate (Egg Albumin) is considered by many the gold standard of protein. This is because its amino acid pattern nearly perfectly matches that of which is needed for human growth and enhanced cell repair. The mixtures of proteins found in egg isolate are digested at a medium rate of 3 to 4 hours.
SUSTAINED MUSCLE GROWTH
Milk Protein Isolate 90%+ occurs naturally in cow's milk and includes a natural combination of 80% casein protein and 20% whey protein. Casein protein synthesizes in the body much slower than whey protein, taking up to seven hours to fully release into the blood. Many people use milk protein isolate as a diet supplement or meal replacement as it's a slower releasing protein.
ANTI-CATABOLIC EFFECT
Micellar Casein 85%+ is an extremely slow digesting and rich protein source that continues to fuel muscles long after other protein sources. Studies with this un-denatured form of isolated casein show it to sustain steady amino acid elevations for an incredible six to seven hours, providing a strong all-day anti-catabolic effect.
PART OF: FIT STACK


WHAT IS MAGNUM QUATTRO™?
Magnum Quattro™ is a 4 isolate, time-released, smooth digesting protein. With no lactose and a combination of 4 high-quality isolates, essential fats and flaxseed, Magnum Quattro™ is the great-tasting protein you have been waiting for!
MAGNUM QUATTRO™ IS AN EXCELLENT CHOICE FOR A PROTEIN SUPPLEMENT BECAUSE
High Quality Ingredients
It has only Isolate proteins (the highest quality and form of protein – supporting digestion, absorption, and results)*
It has 4 different sources of Isolate protein for timed digestion*
It has added Flaxseed for essential fatty acids and protein assimilation*
There is more protein per scoop than almost any product available today*
It will support sustained energy throughout the day**
It will aid in achieving leaner, denser muscles*
It supports an increase in your metabolic rate*
WHY TAKE A PROTEIN SUPPLEMENT?
Almost every active individual is protein deficient*. North America's stereotypical poor diet (1 – 3 daily, very low-quality meals consisting of nearly no protein) can be blamed for the meager results most people are getting in the gym. Adding a high-quality protein supplement, especially one that you will not get gas or bloating from, will dramatically change the way you look and feel. Without enough protein, it is nearly impossible to build new muscle*. Even more difficult is maintaining new muscle without adequate protein intake. Many people have gained significant muscle from a creatine, arginine, or anabolic supplement, but drop most or all of that muscle very quickly because of the absence of a clean, high-quality protein supplement.*
A HIGH-END PROTEIN SUPPLEMENT IS RESPONSIBLE FOR THE FOLLOWING RESULTS:
Building and maintaining lean muscle*
Muscle and (to some degree) bone density*
Creating certain hormones, enzymes, cellular messengers and nucleic acids.*
Putting together structures that make up every cell, tissue, and organ*
MAGNUM QUATTRO IS IDEAL FOR ANYONE WHO:
Is trying to build muscle*
Is trying to lose fat*
Has a less than perfect diet*
Is active*
Is a bodybuilder, fitness competitor or athlete*